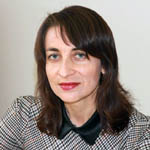 Olena Sosenko
Olena Sosenko is a senior agricultural underwriter at SCOR reinsurance company. She holds a Ph.D. title in biology/plant protection. Olena Sosenko has a broad experience in agricultural science, production, insurance and reinsurance.
Olena had managed the agricultural insurance portfolios and was creating the agricultural insurance products in Ukraine and Australia. While working in reinsurance Mrs Sosenko has analyses multiple portfolios and agricultural insurance systems from Russia, Ukraine, Eastern Europe, India, Mongolia and other.
Her focus has been remaining on developing countries, which require know how transfer, non standard and bridging  solutions on both risk transfer and reinsurance framing. Olena Sosenko has done various research and practical work on climate indexes and agricultural index insurance. She wrote multiple articles on agro risk and company's management.