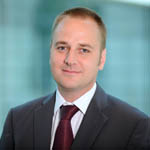 Reto J. Schneider
Mr. Schneider works for Swiss Re since 2001. He started his career in reinsurance after experiences in the wine and food industry. Starting as an underwriter for agricultural facultative business, he became responsible for the Zurich based agricultural team in Zurich in 2005 dealing with business in Europe. He heads currently the agricultural reinsurance team for the markets Americas, Africa and Asia. Reto J. Schneider holds a master degree in agricultural sciences.
The Swiss Re Group is a leading wholesale provider of reinsurance, insurance and other insurance-based forms of risk transfer.
Dealing direct and working through brokers, its global client base consists of insurance companies, mid-to-large-sized corporations and public sector clients. From standard products to tailor-made coverage across all lines of business, Swiss Re deploys its capital strength, expertise and innovation power to enable the risk taking upon which enterprise and progress in society depend.
Swiss Re Official web-site: http://www.swissre.com/