David Ginzburg
Profession: Agricultural Insurance Expert
Education:
1975 —  BScAgr.HebrewUniversity
1985 — MBATelAvivUniversity
Professional Experience:
1976-1981 — Loss Adjusters
1981-1986 — Head of loss adjustment department
1986-1996 — Deputy CEO — KANAT
1996- CEO — KANAT
Mr. Ginzburg is developing crop insurance programs and marketing the programs, expert in crop loss adjustment and expert in reinsurance programs.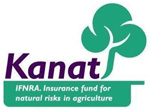 KANAT — Insurance Fund for Natural Risks in Agriculture
KANAT – The Insurance Fund for Natural Risks in Agriculture has been operating since 1967. Its ownership is held equally by The Government of Israel and The Farmers' Marketing Boards and Organizations. KANAT has more than 17,000 policyholders and a wide range of insurance policies.
KANAT offers growers a wide range of insurance policies for risk management.
The Israeli government views KANAT as a critical insurance tool that allows farmers, exposed to natural disasters, to protect and develop their income. In order to support Israeli agriculture, the government subsidizes part of the insurance premiums by financing 35% of Multiple Peril Crop Insurance premiums and 80% of Natural Disaster Insurance premiums, which makes it possible for farmers to purchase insurance in order to protect their income. The government also supports the financing of innovative insurance program that provide farmers with the best protection. We also offer a premiums discount up to 60%, when no claims are filed for Multiple Peril Crop Insurance.
Over the past few years, KANAT has launched a wide range of new insurance policies. Revenue Insurance for Wheat and Barley is one of these new innovative insurance programs. KANAT deals with Multiple Peril Crop Insurance (MPCI) and Natural Disaster Insurance (NDI) in all sectors of agriculture with full cooperation from the Israeli Farmers' Unions and the government.
Multiple Peril Crop Insurance (MPCI)- Coverage against natural disaster risks caused by weather such as hail, frost, storm, flood, snow, rain and many more.
-Basic Insurance (obligatory) – Purchased from KANAT by the Farmers' Board, for most sectors and cover all farmers in the sector.
-Full Coverage Insurance (optional) – KANAT offers the farmers in most sectors an optional insurance with premium conditions. The optional insurance is purchased by the individual farmer directly from KANAT.
Natural Disaster Insurance (NDI)- The Insurance cover damages caused by adverse weather conditions which are not covered under MPCI, pests and diseases and defined natural damage to the trees which also has a basic insurance which is obligatory or an optional, full coverage insurance.
KANAT reviews all its' insurance policies with the farmers Board or the Government and update them to the changing needs of the sector.
KANAT's financial strength and stability enables the company to provide different lines of insurance and ensures the farmers a supportive income protection.